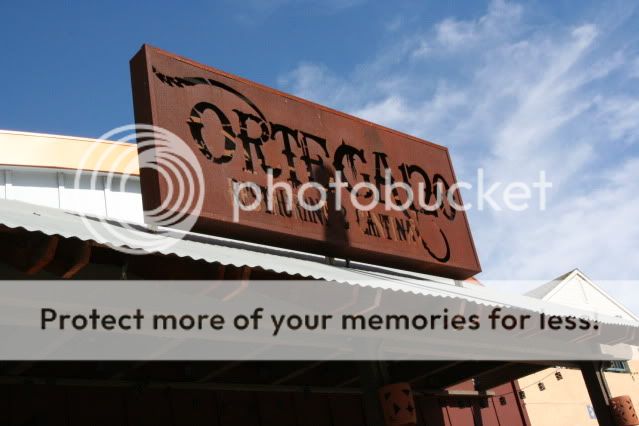 My good friend Angela and I decided to try this Mexican restaurant in Redondo Beach called Ortega 120. We found it through the dineLA Restaurant Week and saw that since the week extended to today, we would try one of their set lunch meals.

When we got there, they told us that the Restaurant Week had been over for a few weeks now...Uh, I'm sorry, but no. Your restaurant is clearly listed to the end of this week. BUT, I'm not going to argue with you because you are still a nice server and I am hungry.
Although we didn't get the chance for a set meal, they did have three different $10 lunch specials. One was a three taquito dish (with three different meats), made with corn tortilla. Angela chose the three taco plate, which came with rice, beans, and their Ortega 120 house salad. The tacos were pollo, asada, and short rib, and were served with either corn or flour tortilla (Angela chose flour). The house salad was very summery, even though we're in October...however since we were by the beach and the weather was still nice enough that we could sit outside, it didn't really make a difference. Plus, this place looked like what my grandmother's house would look like if my entire family was hardcore Mexican.
Anyway, I digress. The Ortega 120 salad came with
Red Leaf lettuce, roma tomato, red onion, cucumber, carrots, and cotija cheese. It was topped, uniquely enough, with pumpkin seeds, and drizzled with a cilantro vinaigrette.
Angela said that the meat was flavorful, although the asada was her favorite. Tender and juicy, it could be eaten with or without the tortilla. The pumpkin seeds really made a difference in the salad as it was a welcome--and unexpected--addition.

As for me, I chose the "Ortega 120 Classic," which included either the house salad or the Caesar salad (I chose the latter), which came with Ortega 120's own Caesar dressing, red onion, garlic croutons, and topped with cotija cheese. The dressing was light although it had a bit too much of an anchovy taste (or maybe they were a bit heavy handed with the
Worcestershire
sauce), but the garlic bread-y croutons were really the highlight of the salad. I could snack on those all day, they were so good. Not overly crunchy, with just the perfect amount of garlic butter. The meal also came with a tortilla soup, with shredded chicken, Oaxaca cheese, cilantro, and tortilla strips. It was advertised that there would be sliced avocados but either they forgot to serve it or I didn't taste it. I'm banking on the former because I would have been able to see the avocados at least.
The soup was good, but nothing I haven't eaten before. There was a generous amount of chicken though, which is always good for me as I can live on a diet of chicken and chicken alone.

Before all the fun toppings
After all the fun toppings
Last, but not least, was my half torta (or sandwich for those uninitiated. haha).
The choices were like those of the taco and of course I chose chicken. Shredded chicken with lettuce, tomato, and guacamole, sandwiched between two freshly toasted pieces of bread. Some of the soup had spilled over onto the plate, so the bottom of the sandwich was a bit soggy, which made it harder to eat what with the MESS FACTOR. However, the bread soaked up a lot of the soup/chicken broth essence, which actually enhanced the flavor of the bread.
For dessert, we split the churros, which Ortega 120 is well known for. It came with five bite size pieces of churro, flaky and warm with just a touch of cinnamon sugar. On one side was a dark chocolate dip, with a slight mint aftertaste, although it could also be a mint liqueur...I couldn't really put my finger on it. On the other side of the churros was a vanilla bean ice cream swirled with caramel sauce, which was pretty tasty.
I'm not as big of a fan of chocolate as Angela is, so I think we both had our favorites.

Overall, lunch was a good time to come since each meal only cost $10 and we left full. Plus, they served fresh tortilla chips and a mild, hearty salsa.

Ortega 120 Restaurant and Cantina
1814 South Pacific Coast Highway

Redondo Beach, CA 90277
Monday-Thursday 11:30 am to 10pm
Friday and Saturday 11:30 am to 11pm
Sunday 10:30 am to 9 pm
310.792.4120
|
www.ortega120.com